A semi-nude body of a woman was found in the courtyard of the house in Raipura, Chitrakoot. Knife marks were found on his stomach. She was half dressed. There was no one in the house at that time. This incident has spread sensation in the area. Police reached the spot after getting information and started investigation. The woman had an illicit relationship with a young man. There used to be fights everyday in his house regarding this. The police are expressing suspicion on the family.
Husband works in Gujarat
Actually, Ram Bahadur, a resident of Denudha village of Raipura police station area, works as a security guard in Rajkot, Gujarat. He had gone away from home to earn money several months ago. His wife Rinki Gupta (30) lived at home with their three sons. The woman's brother-in-law Basant also lived with her. According to the information, this incident happened at 6 pm.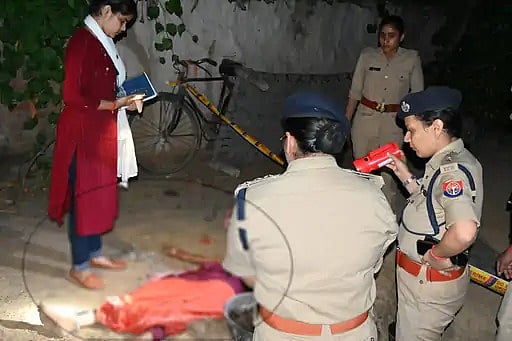 When the murder took place, Rinki's three sons had gone to a neighbor's house to play. The police have recovered the knife and sickle lying near the woman's body. Panchnama of the dead body has been done and sent for post mortem. The police are expressing suspicion on the family. After the information, her husband has left for Chitrakoot from Rajkot.
Found with a towel tied around his neck
According to witnesses, a tattoo mark was found on his stomach with a knife and a towel was found tied around his neck. The woman had an illicit relationship with a young man. His brother-in-law and father-in-law used to fight with him every day regarding this. She used to talk on mobile the whole day. Her husband lives outside. There is a suspicion that his brother-in-law and father-in-law may have committed the murder. At present the police is interrogating the family members and neighbors.
In this case, Chitrakoot SP Vrinda Shukla said that this is an incident of murder. Police are interrogating the family and neighbors. The woman's body has been sent for post-mortem after Panchnama. A lot will be revealed after the post mortem report comes. The husband of the deceased has been informed. He does a private job in Rajkot. Soon the entire matter will be revealed and strictest action will be taken against the accused.